School Climate and School Leadership Resources
#1 Rated School Climate Assessment Instrument
The ASSC School Climate Assessment Instruments (SCAI) have been rated "the Best" school climate surveys, and provides unique benefits. Because of its innovative design, sound theoretical framework and comprehensive content, the SCAI is capable of providing the most clear and usable information about the climate and function level at your school. The SCAI allows any school to locate itself on the school function and effectiveness "roadmap." This roadmap (shown in the chart here) enables those at the school to see clearly where they are currently as well as what "moving up" would entail.
Take the SCAI at Your School
Versions for both Elementary and Secondary for
Your complete resource for School Climate Surveys, Research, Support Materials, School Leadership materials, and information on how to use the SCAI at your school.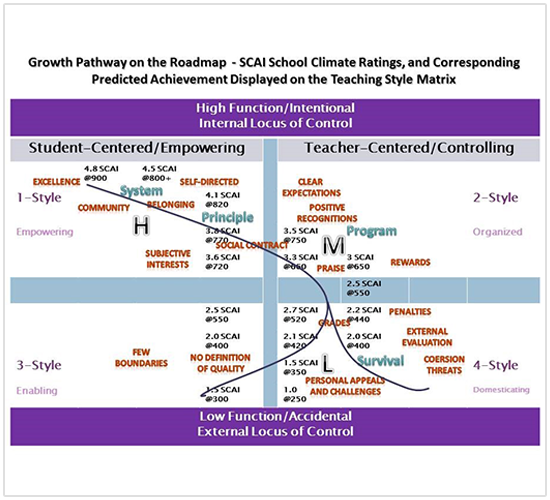 As consultants coaching schools on real transformation, the SCAI instrument is by far the best tool. Instruments that use Likert scales do not give enough information and are not practical to the change process. In contrast, the SCAI gives specific information that easily lends itself to developing specific strategies for positive change. Teachers easily understand the results of the survey and feel empowered to make changes once the see the results of the instrument. DRIVE Consulting